West Lothian Toy Shops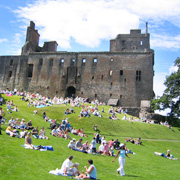 Narrow your results: browse for toy shops in West Lothian towns:
Livingston.
One of Scotlandís thirty two unitary councils, West Lothian has a small population when compared to its size. Towns such as Broxburn, Armadale, Livingston, Bathgate and Whitburn are amongst the largest towns with a small choice of toy shops.
The specialist independent toy retailers supplement the larger multiples such as Toys íRí Us - and shoppers will not have to travel too far to find the toys or games they are looking for. Hunters Toy Store in Bathgate, Immabels Party Supplies in Livingston or A2 Zee Models also in Livingston are all great examples of thriving independent toy related businesses in the West Lothian region.
OTHER RETAILERS
A2 Zee Models

48 Ambrose Rise, Livingston, West Lothian, EH54 6JT
01506 416444
Fast Toys

3 Summerville Court, Livingston, West Lothian, EH54 5QG
07739 826656
Hunters Toy Store

15 Market Place, Bathgate, West Lothian, EH47 0EU
01501 744719
Immabels Party Supplies

82 Haymarket Crescent, Livingston, West Lothian, EH54 8AU
01506 465164
Mags Face Art

20 Hillside Place, Bathgate, West Lothian, EH47 8AN
07749 709816
WFM Fancy Dress

44 Ryebank, Livingston, West Lothian, EH54 6HB
07830 101718