Livingston Toy Shops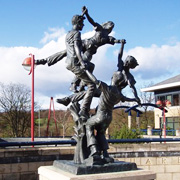 Livingston is the largest of West Lothian's towns, and was created by building inbetween several smaller villages. Home to the modern and large 'The Centre' shopping area, most of Livingston's toy shops are found in and around this major retail centre. Toys 'R' Us have an outlet on the edge of the town, but some of the town's smaller toy shops sell a selection of models, gifts and fashion toys as part of their offerings.
A2 Zee Models in Ambrose Rise retails a superb selection of construction models, whilst Fast Toys in Summerville Court focuses on die-cast models and radio controlled vehicles. When it's kid's party time, a visit to Immabels Party Supplies is an absolute must. It's the perfect place for a choice of balloons, party plates and cups, streamers and any other celebration trinkets.
OTHER RETAILERS
A2 Zee Models

48 Ambrose Rise, Livingston, West Lothian, EH54 6JT
01506 416444
Fast Toys

3 Summerville Court, Livingston, West Lothian, EH54 5QG
07739 826656
Immabels Party Supplies

82 Haymarket Crescent, Livingston, West Lothian, EH54 8AU
01506 465164
WFM Fancy Dress

44 Ryebank, Livingston, West Lothian, EH54 6HB
07830 101718