Sutton Coldfield Toy Shops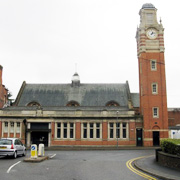 Situated just eight miles from the centre of Birmingham, Sutton Coldfield is a large town in its own right. Red Rose Centre and The Mall are the two main shopping centres. Both have been modernised and contain a fascinating combination of multiple and independent shops that sell goods of all types. Restaurants and cafes are plentiful, and the Sutton Coldfield toy shops have plenty of games, puzzles, toys, hobbies and gifts to offer.
An indoor market area known as the Inshops has the Toy Revolution shop specialising in toys from films and TV, and the Entertainer and Games Workshop stores are also situated in the town. Keen model railway enthusiasts have the Hobbyrail shop right on their doorstep, whilst Party Bag Treasures is a perfect one-stop-shop for all kid's party supplies.
POPULAR RETAILERS
45-47 Birmingham Road, Sutton Coldfield, West Midlands, B72 1QF
0121 354 3174
58 Ley Hill Road, Four Oaks, Sutton Coldfield, West Midlands, B75 6TE
0121 3083021
99 The Parade, Sutton Coldfield, West Midlands, B72 1PL
0121 321 3727
Midpoint Park, Minworth, Sutton Coldfield, West Midlands, B76 1RN
01213 136000
OTHER RETAILERS
Hobbyrail

55 Riland Road, Sutton Coldfield, West Midlands, B75 7AN
0121 378 0680
Party Bag Treasures

20 Ladywood Road, Sutton Coldfield, West Midlands, B74 2SW
07513 055668
Toy Revolution

Unit 21-22 Inshops, 65 South Parade, Sutton Coldfield, West Midlands, B72 1QU‎
0121 355 8300‎