Chichester Toy Shops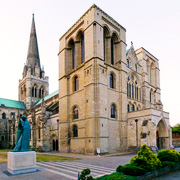 With wide, pedestrianised streets, good transport links and a compact city centre, Chichester is a great shopping destination, especially for toy shoppers who will have no trouble finding a good selection of major and independent toy shops.
Gamestation and the Early Learning Centre (on South Street and East Street respectively) provide the town with a couple of good 'big name' stores to shop for electronic and baby products.
Better still though, Chichester is also home to a number of 'real' toy shops like Kids Stuff which has been running for over 25-years. This shop sells all the latest brands as well as a wide selection of board games to suit any occasion. Also worth checking out is Celeste Children in the Boardwalk Arcade that sells educational toys and clothing for children up to the age of 13.
FEATURED RETAILERS

Independent toy shop located in the heart of Chichester.
Read more about Whirligig Chichester >>
POPULAR RETAILERS
58 North Street, Chichester, West Sussex, PO19 1NB
01243 789053
53 South Street, Chichester, West Sussex, PO19 1DS
01243 788055
2 Wittering Walk, Cakeham Road, East Wittering, Chichester, PO20 8RR
01243 696250
OTHER RETAILERS
Gamestation

30-30A South Street, Chichester, West Sussex, PO19 1EL
01243 839059‎