Malmesbury Toy Shops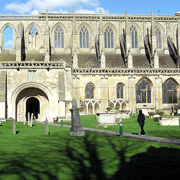 Close to Chippenham, Cirencester and Swindon, Malmesbury is probably best known outside Wiltshire for being home to the HQ of one the UK's greatest business success stories, Dyson. Luckily for toy shoppers though, Malmesbury has lots more to offer - and the town is very lucky to have a thriving High Street that is home to numerous independent shops and a regular market.
The main two Malmesbury toy shops are situated a little way outside the town centre - and they collectively provide a diverse range of toy products; from adventurous, outdoor play areas to small, pocket-money toys. Malmesbury Activity Toys is a TP Platinum Stockist which means they have an impressive display of TP products on display all year round. This includes climbing frames, swings, trampolines and much more. Buzz and Matilda on the other hand, specialises in children's games, soft toys and wooden toys. This Malmesbury toy shop prides itself on stocking an ever-changing range of unique products that would be hard to find in regular, High Street stores.
OTHER RETAILERS
Malmesbury Activity Toys

Crudwell, Malmesbury, Wiltshire, SN16 9EW‎
01666 575470‎