Kidderminster Toy Shops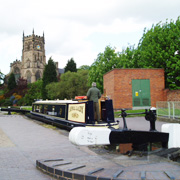 Located on the northern edge of Worcestershire, Kidderminster is a well known carpet-making town as well as having a manufacturing site making rocket engines. The Swan and Rowland Hill shopping centres serve the town well with a great choice of shops, bars, cafes and restaurants.
Shoppers wanting to visit Kidderminster have a selection of independent and multiple retailers selling all the popular toys, hobbies, puzzles and gadgets. TJ Models is a great example of a thriving independent model shop that specialises in kits, die cast models and scale motor racing sets. Other toy shops in the town include The Barrel of Fun on Burcher Green and When I Grow Up in Comberton Avenue.
POPULAR RETAILERS
4 Josiah Mason Mall, Rowland Hill Centre, Kidderminster, Worcestershire, DY10 1EJ‎
01562 824735‎
Unit 1A, Crossley Retail Park, Kidderminster, Worcestershire, DY11 6DY
2 Blackwell Street, Kidderminster, Worcestershire, DY10 2DP‎
01562 747 002‎
OTHER RETAILERS
Gamestation

63 Broad Street, Worcester, Worcestershire, WR1 3LY
01905 734836‎
The Barrell of Fun

6 Burcher Green, Kidderminster, Worcestershire, DY10 3AZ
When I Grow Up

46 Comberton Avenue, Kidderminster, Worcestershire, DY10 3EQ‎
01562 745816‎