Worcestershire Toy Shops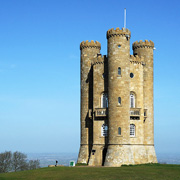 Narrow your results: browse for toy shops in Worcestershire towns:
Kidderminster, Worcester.
Worcestershire is probably most famous for its county town of Worcester, from where some of the world's greatest manufacturing of china has taken place. Other large towns include Redditch, Kidderminster and Stourport-on-Severn, although toy shops can be found spread all over the county.
All the major toy shop chain stores can be found in Worcestershire, but the independent toy shops are thriving and enjoying success by specialising and offering their customers great service and knowledge. The Entertainer is the largest independent toy shop chain in the UK, and their branch in Worcester follows a familiar format of great in-store theatre as well as a superb selection of toys at the lowest possible prices.
FEATURED RETAILERS

Terrific ranges of children's engaging wooden toys and traditional games.
Read more about Little Bundles >>

Offers inspiring, different and fun toys with an educational bias.
Read more about Wise Owl Toys >>
POPULAR RETAILERS
2 The Shambles, Worcester, Worcestershire, WR1 2RF‎
0845 165 7154‎
4 Josiah Mason Mall, Rowland Hill Centre, Kidderminster, Worcestershire, DY10 1EJ‎
01562 824735‎
23 Lychgate, Worcester, Worcestershire, WR1 2QS
01905 616707
Halfords Bikes, Icknield Street Drive, Redditch, Worcestershire, B98 0DE
01527 517601
Unit 12B, Shrub Hill Industrial Estate, Worcester, WR4 9EL
01905 670500
Unit 1A, Crossley Retail Park, Kidderminster, Worcestershire, DY11 6DY
16 The Shambles, Worcester, Worcestershire, WR1 2RF
0844 800 5128
Unit 9, Stockwood Business Park, Stockwood, Redditch, Worcestershire, B96 6SX
01386 791 498
2 Blackwell Street, Kidderminster, Worcestershire, DY10 2DP‎
01562 747 002‎
2 Nursery Road, Malvern, Worcestershire, WR14 1QY
07447 955316
186 Bath Road, Worcester, Worcestershire, WR5 3ER
01905 352264
OTHER RETAILERS
Antics Model Toys

16 St Swithin Street, Worcester, Worcestershire, WR1 2PS
01905 22075
Gamestation

63 Broad Street, Worcester, Worcestershire, WR1 3LY
01905 734836‎
Next Generation Pram and Nursery Centre

Croome Road, Defford, WR8 9AS
01386 750 888‎
Tell Me A Story

11 Barbourne Road, Worcester, WR1 1RS
01905 747821‎
The Barrell of Fun

6 Burcher Green, Kidderminster, Worcestershire, DY10 3AZ
UK Skill Toys

1 London Road, Worcester, Worcestershire, WR5 2DJ‎
07886 359 358‎
When I Grow Up

46 Comberton Avenue, Kidderminster, Worcestershire, DY10 3EQ‎
01562 745816‎