Worcester Toy Shops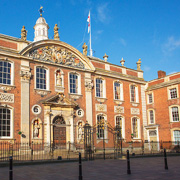 Worcester is the traditional county town of Worcestershire, and is probably best known for the famous Royal Worcester Porcelain Company that sadly no longer produces any goods there. Cathedral Plaza, Lychgate and CrownGate are the three main shopping centres, and are home to a large proportion of Worcester's toy shops.
Worcester is well served by toy shops. These includesa branche of The Entertainer which sells a wide range of toys and caters for all age groups. Other independent specialists include Wise Owl Toys who have a traditional toy shop in the town, backed up by a comprehensive website. UK Skill Toys sells juggling equipment - and Antics sells a wide range of models. All these Worcester toy shops help local shoppers enjoy a terrific selection of toys, games, hobbies and puzzles.
FEATURED RETAILERS

Offers inspiring, different and fun toys with an educational bias.
Read more about Wise Owl Toys >>
POPULAR RETAILERS
2 The Shambles, Worcester, Worcestershire, WR1 2RF‎
0845 165 7154‎
4 Josiah Mason Mall, Rowland Hill Centre, Kidderminster, Worcestershire, DY10 1EJ‎
01562 824735‎
23 Lychgate, Worcester, Worcestershire, WR1 2QS
01905 616707
Unit 12B, Shrub Hill Industrial Estate, Worcester, WR4 9EL
01905 670500
16 The Shambles, Worcester, Worcestershire, WR1 2RF
0844 800 5128
186 Bath Road, Worcester, Worcestershire, WR5 3ER
01905 352264
OTHER RETAILERS
Antics Model Toys

16 St Swithin Street, Worcester, Worcestershire, WR1 2PS
01905 22075
Gamestation

63 Broad Street, Worcester, Worcestershire, WR1 3LY
01905 734836‎
Tell Me A Story

11 Barbourne Road, Worcester, WR1 1RS
01905 747821‎
UK Skill Toys

1 London Road, Worcester, Worcestershire, WR5 2DJ‎
07886 359 358‎