Guild of Rocking Horse Makers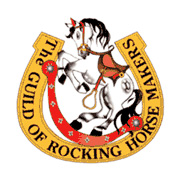 Founded in 1999 by Anthony Dew, The Guild of Rocking Horse Makers was created to promote and encourage the making of rocking horses. The Guild now enjoys over 500 members from more than a dozen countries around the world!
Anyone who has made a rocking horse is entitled to apply for membership to the Guild. Amateur and professional makers are equally welcome - and the submitted horse doesn't have to be either original or elaborate. The only stipulation is that the horse must have been substantially handmade by the applicant.
As well as craftspeople being able to apply, The Guild of Rocking Horse Makers will also consider rocking horse collectors, restorers and enthusiasts. Members receive access to a password-protected section of the Guild's website, a regular newsletter, a lapel badge and invitations to Guild events. They are also entitled to display The Guild of Rocking Horse Makers logo on their website, letterhead and business cards.