Children's Rocking Horses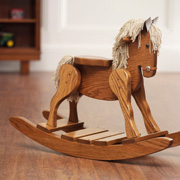 Since the early 1800s, toy rocking horses and other animals such as sheep or bears, have provided a source of amusement and fun for millions of children the world over. Many of these rocking horse variants have been so well made that they are handed down through generations.
Usually made from wood, there are two main types of rocking horse. The first is hung on a wood or metal frame that sits on the floor, and the child simply uses their body weight to move the horse back and forth on the hanging bars. The second type is attached to a wooden frame that is slightly circular in shape, and again the child rocks to produce the movement on the wooden 'bows'.
Many craftspeople have produced beautiful examples of rocking horses, and many of these will be members of The Guild of Rocking Horse Makers which was created in 1999 to promote this craft. Most rocking horses however, are now made in factories that can produce them in many different sizes and finishes. Younger children like the feel of some of the soft fabric materials that are used for comfort, and real leather is sometimes used for the saddles and bridles to make the rocking horse look more realistic. Other animals like sheep can be finished in a real wool cover for superb comfort and realism. Browse our list of specialist rocking horse shops below to find your family's next heirloom!
FEATURED RETAILERS

The world's most famous online retailer sells an unparalleled selection of toys.
Visit Amazon Now >>
Other categories in our
Bikes & Rides
section:
Balance Bikes
,
Cars
,
Diggers
,
Forklifts
,
Go-Karts
,
Jeeps
,
Kids Bicycles
,
Kids Scooters
,
Motorbikes
,
Pogo Sticks
,
Police Cars
,
Quad Bikes
,
Tractors
,
Trikes
,
Unicycles
.
OTHER RETAILERS