Children's Ride-On Motorbikes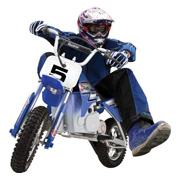 Childrens ride-on motorbikes have never looked so good or performed so well. With small sit on versions from Little Tikes or Step 2 for the very youngest members of the family, kidís motorbikes go right up to large battery powered models for 10 year olds to go screaming around the park or garden!
The battery powered ride-on motorbikes are the most popular though, and companies like Triang, Razor and Injusa make a superb selection with some models even having authentic markings from the real bikes seen racing at weekends on TV. Available as either 6v or 12v versions, Moto X models like the one pictured above really look the part with semi automatic brakes and twist grip hand throttles. For slightly younger kids some models will include a set of stabilisers that can be used until the child feels confident on his own.
Speed is not the only criteria for childrenís ride-on motorcycles, as some are sold as police or fire response versions – these may even have storage compartments for a helmet or even toys! Flashing lights, authentic siren sounds and horns are all important features that make these kids ride-on motorcycles so popular.
FEATURED RETAILERS

The world's most famous online retailer sells an unparalleled selection of toys.
Visit Amazon Now >>
Other categories in our
Bikes & Rides
section:
Balance Bikes
,
Cars
,
Diggers
,
Forklifts
,
Go-Karts
,
Jeeps
,
Kids Bicycles
,
Kids Scooters
,
Pogo Sticks
,
Police Cars
,
Quad Bikes
,
Rocking Horses
,
Tractors
,
Trikes
,
Unicycles
.