Children's Balance Bikes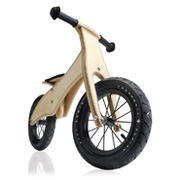 Any parent who has struggled with removing stabilisers from a child's bike when they think they're big enough to cycle on their own, will really appreciate the simple concept behind a balance bike – no stabilisers at all! Lots of companies make these trendy balance bikes for toddlers, and older kids too. With a seat that's really low to the ground and no chain, cables or brakes to worry about, kids can learn to balance almost the second they ride for the very first time.
Interestingly some of the most popular models are largely made of wood, with Branching Out and Kiddimoto being the main suppliers in this niche category. German manufacturers Puky and Kettler both have a selection of toddlers balance bikes along with Strider who were one of the first companies to enter this market. Once the child is proficient at raising both feet off the ground and can balance without falling off, they're ready for the next stage – straight onto a standard chain driven cycle.
Apart from reducing parents stress levels, these balance bikes for toddlers have been proven to help develop motor skills, as well as co-ordination and balance. The Ybike is a great example of how a balance bike can be stylish as well as functional, and with new manufacturers constantly entering this market, it may only be a matter of time before the stabiliser is permanently condemned to the dustbin.
FEATURED RETAILERS

The world's most famous online retailer sells an unparalleled selection of toys.
Visit Amazon Now >>
Other categories in our
Bikes & Rides
section:
Cars
,
Diggers
,
Forklifts
,
Go-Karts
,
Jeeps
,
Kids Bicycles
,
Kids Scooters
,
Motorbikes
,
Pogo Sticks
,
Police Cars
,
Quad Bikes
,
Rocking Horses
,
Tractors
,
Trikes
,
Unicycles
.