Pogo Sticks for Boys and Girls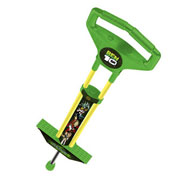 With its history being traced back to 1920 when two Germans first patented the idea, the pogo stick is as popular in the 21st century as it was when first invented. Whilst children's pogo sticks are widely sold in toy shops around the world, the extreme sport of stunt pogo utilises devices with much stronger springs that enable participants to jump higher and farther than ever before.
As a kids exercise machine, pogo sticks are a great way to be competitive and keep fit as well as helping to build a great sense of balance. Ozbozz even brand some of their children's pogo sticks with their favourite characters like Hannah Montana and Ben 10, and TP Activity Toys include a selection in their comprehensive outdoor toys ranges.
Bigger pogo stick models using air pressure instead of springs have achieved jumping heights of 6 feet by some record breaking individuals who also attempt records for the biggest number of consecutive jumps. Kids are happy with the junior pogo sticks that are made in many different styles and colours.
FEATURED RETAILERS

The world's most famous online retailer sells an unparalleled selection of toys.
Visit Amazon Now >>
Other categories in our
Bikes & Rides
section:
Balance Bikes
,
Cars
,
Diggers
,
Forklifts
,
Go-Karts
,
Jeeps
,
Kids Bicycles
,
Kids Scooters
,
Motorbikes
,
Police Cars
,
Quad Bikes
,
Rocking Horses
,
Tractors
,
Trikes
,
Unicycles
.