Unicycles for Kids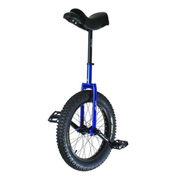 Requiring a huge amount of natural balance and agility, unicycles have traditionally been the preserve of circus performers or fairground entertainers. However many mainstream cycle shops and internet dealers are stocking a selection for some of their more adventurous clients, including those that take part in an extreme sport known as Mountain Unicycling (MUni).
With many different styles of unicycles available from freestyle, trials, touring or off roaders, unicycling can be undertaken by kids as well as young adults. Most unicycle shops will also be able to offer their customers protective equipment which is highly recommended, especially for beginners - wrist guards, knee & elbow pads and helmets being the most popular. Unicycle design is quite simple with pedal arms that are directly connected to the single wheel. A saddle is fixed to the wheel fork, and sometimes foot rests are also provided.
Comprehensive unicycle shops may also sell a giraffe unicycle for their really adventurous customers. This has a really tall seat stem and is chain driven from the pedals to the wheel – potential users need to also realise itís a long drop to the ground if the balance goes!
FEATURED RETAILERS

The world's most famous online retailer sells an unparalleled selection of toys.
Visit Amazon Now >>
Other categories in our
Bikes & Rides
section:
Balance Bikes
,
Cars
,
Diggers
,
Forklifts
,
Go-Karts
,
Jeeps
,
Kids Bicycles
,
Kids Scooters
,
Motorbikes
,
Pogo Sticks
,
Police Cars
,
Quad Bikes
,
Rocking Horses
,
Tractors
,
Trikes
.