Children's Trikes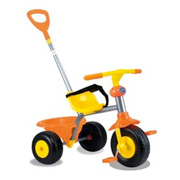 Childrenís trikes (or tricycles to give them their full name) have changed considerably from the large wheeled models made in the 1950s. Whilst three wheels naturally remain, modern designs incorporate lots of features to make them easier to ride as well as branding many of them with favourite TV or film characters such as Peppa Pig or Bob the Builder.
For very young children the addition of a parental handle to the trike for extra security and guidance has meant that accidents are less likely to happen and the child feels more secure and in control. Nearly all childrenís trikes are powered by pedals attached to the front wheel axle, and the addition of bells, hooters, rear baskets for carrying toys around in, or even sun canopies for hot days make these trikes suitable for all conditions.
Very junior childrenís trikes are made by in wood by firms like Iím Toy or Pintoy, and these are really only suitable for indoor use. The rest of the suppliers use a combination of steel and plastic parts with bright primary colours which kids find so appealing. Smart Trike, Mookie, Kettler, Fisher Price and Smoby are just a few of the manufacturers that make a great selection of these first ride-on vehicles with prices to suit all budgets.
FEATURED RETAILERS

The world's most famous online retailer sells an unparalleled selection of toys.
Visit Amazon Now >>
Other categories in our
Bikes & Rides
section:
Balance Bikes
,
Cars
,
Diggers
,
Forklifts
,
Go-Karts
,
Jeeps
,
Kids Bicycles
,
Kids Scooters
,
Motorbikes
,
Pogo Sticks
,
Police Cars
,
Quad Bikes
,
Rocking Horses
,
Tractors
,
Unicycles
.