Kids Bicycles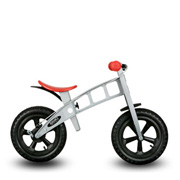 Whilst most children graduate onto a bicycle after learning to ride a trike or balance bike, the use of stabilisers on some smaller models has transformed the junior cycle scene with versions of miniature mountain bikes, or cycles decorated with pictures and graphics relating to their favourite TV character. Once the stabilisers are removed the kids can race around on their bikes until they are ready to graduate to the next size, although parental handle can be attached to some models for extra control.
Buying a kids bicycle is always fun, and with such a choice itís often a difficult decision. Family cycle trips on many of the UKís improving cycle networks are a great way to have a healthy day out, with plenty of fresh air and exercise. Adjustable height seats and handlebars help to ensure that the kidís bike lasts as long as possible, but itís important from a safety perspective not to buy one thatís too big or too small, as this can have a great impact on your child's progress.
There are a lot of different types of kidís bicycles on the market, so we recommend you shop around and choose a reputable manufacturer. Accessories like bells, horns or drinks bottles are always popular additions, not forgetting the all important puncture repair outfit and pump. Frame and wheel sizes vary enormously, and with some models having sophisticated gears and brakes, maintenance is always an important issue.
FEATURED RETAILERS

The world's most famous online retailer sells an unparalleled selection of toys.
Visit Amazon Now >>
Other categories in our
Bikes & Rides
section:
Balance Bikes
,
Cars
,
Diggers
,
Forklifts
,
Go-Karts
,
Jeeps
,
Kids Scooters
,
Motorbikes
,
Pogo Sticks
,
Police Cars
,
Quad Bikes
,
Rocking Horses
,
Tractors
,
Trikes
,
Unicycles
.