Children's Ride-On Diggers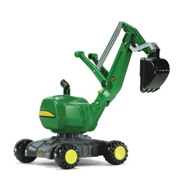 Little boys just love anything to do with tractors, and given half a chance to own their own ride-on digger they'd jump at the opportunity. Luckily several European firms make a selection of these popular toys, with the German company, Rolly, being one of the market leaders. Their John Deere tractor with front loader is every boy's dream, and with its front scoop operated from the driver's seat, they can shovel sand or earth all day long.
For the ultimate children's ride-on digger look no further than Rolly's JCB tractor with front loader and rear excavator. Finished in the classic yellow and black, this toy may not be cheap but for realism and play value it's hard to beat. Caterpillar, Claas and Massey Ferguson have all licensed their brands for use on replica toy ride-on diggers, so now all budding farmers can pretend to drive the real thing just like their dads.
Smoby, Falk and Big are three more suppliers in this kids ride-on digger market, and with a choice of sizes for different age groups there's no reason why even the youngest toddlers can't get in on the fun too! All of these toys are hard wearing and rugged, and most have a chain drive from the pedals to the rear wheels.
FEATURED RETAILERS

The world's most famous online retailer sells an unparalleled selection of toys.
Visit Amazon Now >>
Other categories in our
Bikes & Rides
section:
Balance Bikes
,
Cars
,
Forklifts
,
Go-Karts
,
Jeeps
,
Kids Bicycles
,
Kids Scooters
,
Motorbikes
,
Pogo Sticks
,
Police Cars
,
Quad Bikes
,
Rocking Horses
,
Tractors
,
Trikes
,
Unicycles
.