Children's Ride-On Forklift Trucks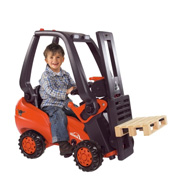 Whilst the choice of childrenís ride-on fork lift trucks may not be huge, the Linde version made by Big is probably the best. Featuring many functioning parts itís a realistic replica of the real thing and there canít be many little boys who wouldnít like to own one. Whichever fork lift truck a parent picks, they must have as many working features as possible.
Usually operated by a chain drive to the rear wheels, a roll over cage is an important feature of a kids ride-on fork lift truck, and of course the working forks are the biggest attraction for raising loads and stacking them on the garage shelves!
Most models will have a towing hitch on the back to couple up a trailer, and big rubber tyred wheels for extra grip in slippery situations. Young boys especially love riding around the garden on almost any toy whether itís a tractor, digger or bicycle, but for something different a fork lift truck is hard to beat.
FEATURED RETAILERS

The world's most famous online retailer sells an unparalleled selection of toys.
Visit Amazon Now >>
Other categories in our
Bikes & Rides
section:
Balance Bikes
,
Cars
,
Diggers
,
Go-Karts
,
Jeeps
,
Kids Bicycles
,
Kids Scooters
,
Motorbikes
,
Pogo Sticks
,
Police Cars
,
Quad Bikes
,
Rocking Horses
,
Tractors
,
Trikes
,
Unicycles
.