Children's Quad Bikes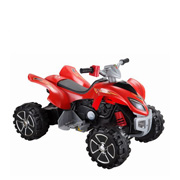 The best quality kids ride-on quad bikes are powered by rechargeable batteries that can produce a lot of muscle and grip for the roughest terrain. Feber, Triang and Famosa are three well known suppliers of these vehicles, and with 12v power and names like Raptor and Brutale, they live up to the rough and tough treatment they get in the park or garden.
Toddlers aren't forgotten however, with makers like Falk producing junior versions that can be easily ridden around inside the house. They usually have lift-up seats for storing other favourite toys and many of them come with buttons to make realistic sounds. These children's ride-on quad bikes are great for strength too, with four chunky wheels to provide terrific stability.
Powering by pedals is good exercise for young children, so if they're not quite large enough for the big quad bikes, smaller versions with a chain drive are a good alternative. Many of these ride-on quad bikes can be bought with helmets and gloves to complete the authentic look, but watch out for bumps and potholes as these can still tip over the best machines.
FEATURED RETAILERS

The world's most famous online retailer sells an unparalleled selection of toys.
Visit Amazon Now >>
Other categories in our
Bikes & Rides
section:
Balance Bikes
,
Cars
,
Diggers
,
Forklifts
,
Go-Karts
,
Jeeps
,
Kids Bicycles
,
Kids Scooters
,
Motorbikes
,
Pogo Sticks
,
Police Cars
,
Rocking Horses
,
Tractors
,
Trikes
,
Unicycles
.