Kids Scooters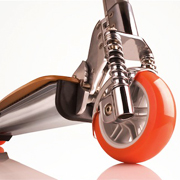 The first patents for kids scooters were issued back in 1921, but itís in the last ten years they have changed dramatically. Kids scooters are no longer seen as the poor cousin of the bicycle, they are now trendier, more fashionable, and more technological with some even having in-built light or sound effects!
Scooter manufacturers have even learnt some clever tricks from the humble skateboard and fit rear wheels that steer as the user leans into a bend. This enables the rider to carve up the streets in the same way a snowboarder will carve up the ski-slopes! 3 wheel scooters are particularly sought-after by boys and girls and there are various different sizes, styles and finishes available for toddlers or older children.
Whether you're looking for a scooter with one, two or three wheels at the back, kids scooters can now be purchased painted with amazing character graphics like Thomas & Friends, or finished in stunning metallic paints or chrome finishes. Some now have flashing lights, rear wheel brakes, tough PU wheels, aluminum decks and folding mechanisms for safe and space saving storage.
The very newest innovation in kids scooters is those that are powered by small electric motors fuelled by re-chargeable batteries! These are designed strictly for use on pavements or private roads and can feature disc brakes and even a seat for the ultra comfortable ride! These are not just kids scooters but can even be used by older teenagers and adults.
FEATURED RETAILERS

The world's most famous online retailer sells an unparalleled selection of toys.
Visit Amazon Now >>
POPULAR SUPPLIERS

Other categories in our
Bikes & Rides
section:
Balance Bikes
,
Cars
,
Diggers
,
Forklifts
,
Go-Karts
,
Jeeps
,
Kids Bicycles
,
Motorbikes
,
Pogo Sticks
,
Police Cars
,
Quad Bikes
,
Rocking Horses
,
Tractors
,
Trikes
,
Unicycles
.
OTHER RETAILERS