Children's Go-Karts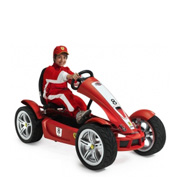 Whilst the huge Berg Ferrari go-kart pictured above will be beyond most parents budgets, thereís still a great choice of childrenís go-karts on offer from plenty of other suppliers. As one of the great outdoor toys, go-karts with their pedal driven rear wheels can reach quite astonishing speeds given a good piece of flat tarmac to burn up. German companies Puky and Kettler make some of the strongest kidís go-karts any parent could buy, and with great attention to styling they are also some of the best looking too.
Made in a variety of sizes to suit even the smallest kids, most go-karts also have adjustable seats for maximum growth potential. Some even have inflatable tyred wheels rather than solid rubber, and with names like Indianapolis and Le Mans, the racing pedigree is easy to spot. The larger childrenís go-karts often have a hand-operated brake that rubs on one of the rear wheels, and some will also have a free wheel lever to save the legs whilst coasting downhill.
Whatever go-kart your children want, thereís sure to be one at the right price. Whilst some home assembly will be required, the convenience of having a heavy box delivered straight to your door is a big benefit, and many online retailers offer very quick delivery. Once a child has grown out of their go-kart, they may be interested in moving onto the petrol engine versions. Several race tracks around the UK hold special childrenís go-kart events, and with many top F1 drivers coming up through the sport, itís easy to see why kids are attracted to the motor racing scene.
FEATURED RETAILERS

The world's most famous online retailer sells an unparalleled selection of toys.
Visit Amazon Now >>
Other categories in our
Bikes & Rides
section:
Balance Bikes
,
Cars
,
Diggers
,
Forklifts
,
Jeeps
,
Kids Bicycles
,
Kids Scooters
,
Motorbikes
,
Pogo Sticks
,
Police Cars
,
Quad Bikes
,
Rocking Horses
,
Tractors
,
Trikes
,
Unicycles
.