Children's Ride-On Toy Cars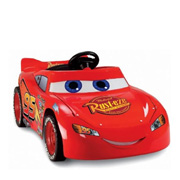 From classics like the Big Bobby car to the Little Tikes Cozy Coupe, children's ride-on toy cars come in all sizes, shapes, colours and age groups. Even before the toddling stage, kids are often bought a ride-on car that they can gently propel along the ground using the soles of their feet.
It doesn't take long however before they soon want something more adventurous and a ride-on car with pedals, or even better, battery power is the order of the day. Some great classic style pedal ride-on cars are supplied by Great Gizmos, along the lines of ones produced in the 1950s by Triang Toys who have made a welcome return to the ride-on vehicle market with some great looking children's ride-on electric cars, off roaders and tractors.
Exclusive Toys distribute the famous TT range of Italian ride-on electric powered cars that are all based on real life exotic supercars. Kids can choose from vehicles like the Mercedes SLK, Bugatti Veyron, Jaguar XK or Alfa Romeo that are powered by 12v re-chargeable batteries. Children's ride-on cars don't get better than this!
FEATURED RETAILERS

The world's most famous online retailer sells an unparalleled selection of toys.
Visit Amazon Now >>
Other categories in our
Bikes & Rides
section:
Balance Bikes
,
Diggers
,
Forklifts
,
Go-Karts
,
Jeeps
,
Kids Bicycles
,
Kids Scooters
,
Motorbikes
,
Pogo Sticks
,
Police Cars
,
Quad Bikes
,
Rocking Horses
,
Tractors
,
Trikes
,
Unicycles
.