Barbie Camper Van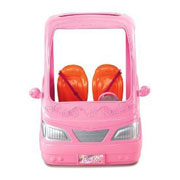 When Barbie goes on an outdoor holiday, she always makes sure that she goes in style! When Barbie goes camping the first thing she loads up is her fantastic Barbie Glamour Camper!
As a re-launch of the 1970s top-selling camper van, the Barbie Glamour Camper has almost everything a girl could ever want for a top camping holiday. There's a full working kitchen, flat screen television, flushing toilet in the bathroom, a shower and even a chandelier.
Girls will have hours of fun with this camping van that also includes a pop-up tent (complete with a mega-cool sleeping bag), real camping sounds such as a bonfire crackling and crickets chirping, as well as lots of other accessories. When playtime is finished everything can be packed back inside and folded up ready for the next day.
The Glamour Camper Van is suitable for girls aged three years and up – some eight year old Barbie fans say it's the most fantastic toy they own! Toy Shop UK knows that all Barbie fans will want one of these! Big, sophisticated and pink - perfect for the modern girls.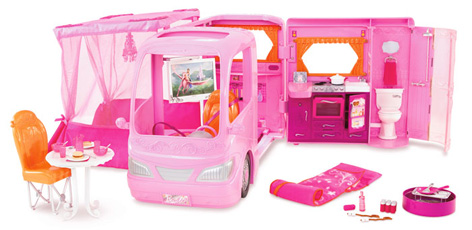 Fans of the Glamour Camper may also like the Barbie Sisters Go Camping Camper.
RECOMMENDED RETAILERS

Amazon
The world's most famous online retailer sells an unparalleled selection of toys.
Buy the Barbie Glamour Camper now >>

eBay Toys
The 'World's Online Marketplace' offers an unprecedented selection of toys.
Buy the Barbie Glamour Camper now >>