Airfix Shops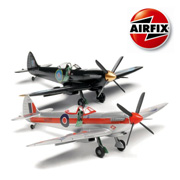 Probably the world's best known manufacturer of plastic construction kits, Airfix made its first model in 1949 - a Ferguson tractor that was sold in Woolworths. More followed, and the company rapidly expanded its range of model subjects over the next 40 years so that customers could buy an Airfix model of almost any vehicle in any scale.
By the mid 1970s, engineering techniques had improved so far that Airfix were able to manufacture in the big 1/24 scale, and models of the Spitfire, Hurricane and Harrier were soon on sale. Airfix toys and models are synonymous with plastic modelling as a whole - and many people will refer to the company when talking about other maker's competitive products. Airfix however, also expanded into other toy related areas with ranges of arts & crafts, dolls, games and even model railways.
The 1980s saw a decline in the popular plastic modelling hobby, which many believe was due to the increasing popularity of computer games. Airfix was purchased by an American company, and sold again in the mid 2000s when they were acquired by Hornby Hobbies who have invested heavily in recreating Airfix to its former glory. No doubt there will be many more chapters to come in the future of the famous Airfix toy and model company.
DISTRIBUTORS
RECOMMENDED RETAILERS

Amazon
The world's most famous online retailer sells an unparalleled selection of toys.
Buy Airfix models now >>

Relish Models
A comprehensive range of over 600 items of plastic model kits and accessories.
Read more about Relish Models >>