Goldfish & Bison Toys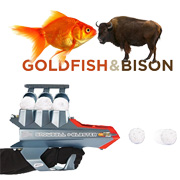 Probably best known as distributors of the amazing US designed Laser Pegs construction toys, Goldfish & Bison was formed in late 2012 to supply the toy trade with a growing range of innovative new and existing brands and licences. Their agreement with Wham-O to also distribute their massive range of flying discs and outdoor toys was another important factor in setting up the company.

Goldfish & Bison secured a deal to supply the fantastic Zip-Itz and Click-Itz bracelets throughout the UK. Often seen on the wrists of famous superstars, every little girl wants their own collection. Different colours and styles as well as a constant supply of new releases are the secret to the brandís success.
Canadian arts & crafts company Bojeux are represented in Goldfish & Bisonís portfolio of toy products. The ranges feature moulding dough packs and a huge variety of girls craft sets. From making their own wrist bands and bracelets to sand art sets and fun scratch stickers, kids love the easy to use components and instructions.
HERO PRODUCTS
LICENCES HELD BY GOLDFISH & BISON
RECOMMENDED RETAILERS

Amazon
The world's most famous online retailer sells an unparalleled selection of toys.
Buy Goldfish & Bison toys now >>