Gund Soft Toys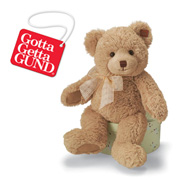 With the catchy tagline "Gotta Getta Gund" this New Jersey-based company has been creating unique teddy bears and soft toys since 1898. Gund toys are now recognised all over the world for their emphasis on quality and innovation - and their soft toys appeal to all ages which makes them perfect for both play and collecting.
Gund was founded on three basic principles: Use the best materials, find the best craftsmen... and stuff everything with a lotta love! These are the same principles that the company follows today, despite having continued to expand throughout the last century.

The company is proud to point out that they were the very first manufacturer to develop a licensed product. Although commonplace now, this was revolutionary back in 1924 when Gund licensed Felix the Cat and Popeye. The company has continued to be at the forefront of the toy industry and now has additional sub-brands in the form of Gund Baby, Gund Kids, Gund Fun and Gund Gifts.
Another licensing opportunity in the shape of Peter Rabbit and his friends was grabbed by Gund when it became available. Mrs Tiggywinkle, Jemima Puddleduck, Benjamin Bunny and Flopsy are all endearing characters enjoyed by millions of kids all over the world. With gorgeous soft toys in three different sizes of each animal, there's no reason for any child not to own at least one!
The UK branch of Gund toys is situated in Preston where global gift distributor Enesco has its base. There are many independent retailers throughout the country that stock large ranges from this beloved toy company - some of which you can see below.
HERO PRODUCTS
LICENCES HELD BY GUND

RECOMMENDED RETAILERS

Amazon
The world's most famous online retailer sells an unparalleled selection of toys.
Buy Gund teddy bears now >>

Dragon Toys
A teddy bear & soft toy shop selling quality brands.
Read more about Dragon Toys >>

Rutland Bears and Gifts
Traditional teddy bears, soft toys, baby toys and gifts from renowned toy makers.
Read more about Rutland Bears and Gifts >>

The Puppet Factory
A huge selection of beautiful puppets that are suitable for use in many places.
Read more about The Puppet Factory >>