Halo Toys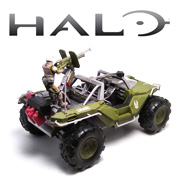 Based on the phenomenally popular Microsoft electronic Halo game, Mega Bloks have created a superb range of toys around the Halo theme. Continuing battle between the United Nations Space Command (UNSC) forces and the Covenant rebels means that the Halo toys recreate some of the most popular vehicles and forces from the game.

By encouraging kids to build before they play, their role play and imagination are stretched to the limits, and gives them huge satisfaction when they see a completed model. One of the most popular toys is the UNSC Rocket Warthog, a camouflaged vehicle that comes complete with a rocket launcher and two figures. Add-on sets include Combat Unit 4 with extra figures and a set of Flame Marines. If the kids fancy bigger sets, most stores will sell the USCN Mongoose all terrain vehicle or the even larger Covenant Wraith assault tank that contains nearly 500 pieces!
Top of the range is the USCN Pelican Dropship that has massive thrusters for vertical takeoff – a working rear door allows rapid deployment of soldiers in battle conditions. All of the Halo toys have a series of accessories that allow each vehicle or soldier to be customised with different parts and weapons. New additions to the Halo toys are released every few months, and kids are advised to keep looking in toy shops for some great new Mega Bloks sets.
Toy company re:creation announced a partnership deal with US toy giant Jada to distribute their Halo die-cast vehicles to retailers throughout the UK. The product range includes characters and vehicles from the Halo game, especially focussing on items from Halo 4.
DISTRIBUTORS
RECOMMENDED RETAILERS

Amazon
The world's most famous online retailer sells an unparalleled selection of toys.
Buy Halo 4 toys now >>