KidKraft Toys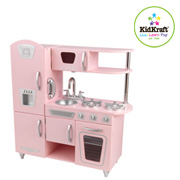 The American company KidKraft started trading in 1968 with a mission statement: "quality, design, dependability and competitive pricing". They are one of the world's leading makers of children's furniture and room accessories - and produce a range of toys and gifts. KidKraft also have some interesting USA licenses such as Harley Davidson and John Deere.
KidKraft's furniture covers many categories including rocking chairs, storage units, tables, as well as beds and vanity units. KidKraft mainly use wood as the primary construction material which is supplemented with plastic parts when required. The sophisticated dolls houses and kitchen units are fantastic play items for many ages and will provide hours of pleasure and fun.

The KidKraft heart or sleigh toddler beds will enchant any little girl - and boys will be thrilled with the multi-level garages, space train or fire station sets. All KidKraft toys are distributed from a European centre and are sold by many specialist UK retailers.
HERO PRODUCTS
LICENCES HELD BY KIDKRAFT

RECOMMENDED RETAILERS

Amazon
The world's most famous online retailer sells an unparalleled selection of toys.
Buy KidKraft toys now >>

Cheeky Monkeys
An independent and family run online business selling indoor and outdoor toys.
Read more about Cheeky Monkeys >>

Junior Bambinos
Junior Bambinos is an online baby and toddler store selling a wide range of children's wooden toys, furniture and gifts.
Read more about Junior Bambinos >>

The Childminding Shop
eCommerce website devoted to providing a one-stop-shop for educational toys.
Read more about The Childminding Shop >>