Planx Toys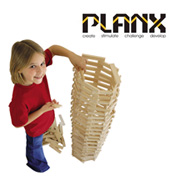 Made from high-quality pine trees that are grown in managed South African plantations, Planx is a wooden construction toy that is partly educational and partly just great fun! This simple toy enables budding architects to create an infinite number of sculptures, buildings and other creations. This makes the toy not only great for encouraging imagination and innovation - but also for developing hand-eye co-ordination and dexterity.
The simplicity of the Planx system is a major part of its appeal. The precision made wooden building blocks are all completely identical - so unlike almost every other construction toy on the market, if one piece goes missing it really doesn't matter! The building blocks themselves have a wonderfully unique grip, feel and balance - and whilst Planx toys share obvious similarities with brands like LEGO and Meccano - the company has refrained from introducing moving parts, electronic add-ons or any other gimmicks.
Planx toys are not as easy to track down as their more famous competitors in the construction toy category - but the shops below should be able to help you locate the product you're looking for.
RECOMMENDED RETAILERS

Amazon
The world's most famous online retailer sells an unparalleled selection of toys.
Buy Planx toys now >>