Meccano Toys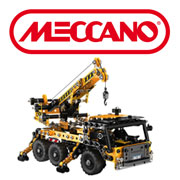 Invented in 1898 by Frank Hornby, Meccano is a sophisticated system of various shaped metal parts held together with nuts and bolts. The inspiration for this brainwave came from Frank's sons who were fascinated with the cranes that they saw every day at the Port of Liverpool.
During the following three years Frank Hornby refined his system and it eventually came to market in 1901 under the name of "Mechanics Made Easy". The first French Meccano factory opened in Calais in 1951, and in 2010 the company decided to relocate part of its manufacturing back to the historic Calais site. This decision was made so that Meccano could increase its manufacturing flexibility and subsequently optimise serviceability to its European markets.
The modern Meccano company is one of the few French manufacturer of toys that still manufactures much of its range in the country. Meccano progressively moves towards more innovation in its product ranges by designing new assembly structures, new combined materials and new technologies for their toys.

By moving into licensed products, Meccano has improved its traditional collections by offering exciting new ranges of products. The first of these ranges launched in 2011 and featured products from Steven Spielberg's film 'The Adventures of Tintin'. Meccano followed this success in 2012 by acquiring the rights to make construction toys for three new properties - Sonic The Hedgehog, Rabbids and Gears of War. These iconic characters and universe are followed by a huge worldwide community of fans as well as being part of the daily lives of many children.
Meccano attaches great importance to the quality and safety of its products. 
All toys are designed and developed in France. The design office is a creative technical laboratory with unique expertise acquired through years of experience.

 The toys are monitored throughout their manufacture from raw material to finished product. All products carry a tracking number so they can be traced from components through to their final destination.
HERO PRODUCTS
DISTRIBUTORS

LICENCES HELD BY MECCANO
RECOMMENDED RETAILERS

Amazon
The world's most famous online retailer sells an unparalleled selection of toys.
Buy Meccano toys now >>

Toys-UK
This online independent toy store has a website and five physical stores.
Read more about Toys-UK >>