Forest Engine
No customer reviews yet. Be the first.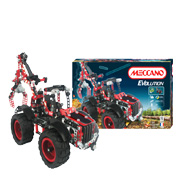 Taking pride of place in a revised Meccano Evolution range is the Forest Engine. This impressive beast is a working replica of those huge mechanical vehicles that load felled tree trunks onto flatbed lorries for transporting away from the site. Suggested age group for this model is 9 and upwards owing to its challenging construction.
With a fully working grab on the end of an articulated arm, kids can have hours of fun with the Forest Engine picking up many different household objects and transferring them to another room in the house. Huge chunky tyres on large diameter wheels, a replica engine and rotating cab are just three more features of this hero product toy from Meccano.