Meccano Micronoids
No customer reviews yet. Be the first.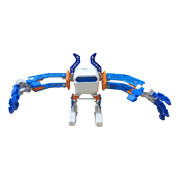 Meccano Tech Micronoids are firmly aimed at 6-8 year olds who are still getting to grips with the intricacies of assembling parts with screws, bolts and nuts. Once built, these cute little robots can be programmed to sing, dance to the beat of the music or even navigate around obstacles thanks to their Meccabrains.
There are three models to collect, all in different shapes and colours. An outstanding feature of Micronoids is their big bulging light up eyes! The jury is out on whether they look cool or scary, although they really stand out in a darkened room.
Each robot can be programmed via the D-PAD into an automatous mode or made to interact with each other in a group. Simple games can be played using a yes/no feature, and customisation of each one is possible thanks to interchangeable parts.
Smaller than their bigger Meccanoid brother, these Meccano robots are the perfect introduction to the interactive world of electronics. Regular Meccano sets are as popular as ever with products such as the Ducati Monster and the enormous Forest Engine taking centre stage.