Scalextric Toys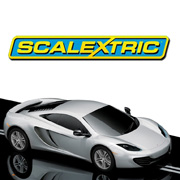 With the help of James May who built the longest ever Scalextric track at Brooklands Grand Prix track as part of his Toy Stories series, Scalextric has enjoyed a dramatic revival in recent times.
Devised at the end of the 1950s, Scalextric has gone from a simple two lane racing set to fully-digital eight lane tracks with added possibilities of overtaking and real braking. Scalextric is still made in the popular 1/32 scale, although for a short while, the company did make some larger track and cars in 1/24 size.

With its extra add-on capabilities of different track lengths and radius of curves, the Scalextric system can be made to fit almost any space or suit any budget. Extra cars are one of the most popular accessories, and these are now so highly detailed that pictures of them look like the real thing! You can add Scalextric buildings, chicanes, bridges, crossovers, lap counters and even track borders to allow high speed drifting on the bends.
Interestingly, Scalextric is one of the most commonly mis-spelt words - made up of "scalex" the trade name given to the clockwork motors that powered the company's first cars, and "tric", the last four letters of the word electric, which of course are the types of motors that now power the vehicles.
HERO PRODUCTS

DISTRIBUTORS
RECOMMENDED RETAILERS

Amazon
The world's most famous online retailer sells an unparalleled selection of toys.
Buy Scalextric toys now >>