Voilą Toys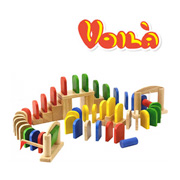 Thailand-based Voilą Toys is a wooden toy specialist that was founded in 1981. Similar to Plan Toys and Pintoy, Voilą produce an eclectic range of rubberwood products that are robust, well designed and beautiful. All products are designed to stimulate children's imaginations and support their physical and mental development.
On one hand, the company produces a range of pretty traditional wooden toys such as shape sorters, baby walkers and toy cars. At the same time though, Voilą Toys also produces some highly imaginative products like their wooden "Chop Chop Chicken" and their showcase "Giant Dolls House" that can retail at anything up to £1000!
As well as Voilą's wooden toys, the company produces children's furniture and other accessories such as clothes hangers, measuring charts and easels. Their range of dolls have also been particularly well received. These are flexible, semi-wooden dolls with movable arms and cotton clothes. They each display ethnic traits which makes them appealing to children of many different cultures.
RECOMMENDED RETAILERS

Amazon
The world's most famous online retailer sells an unparalleled selection of toys.
Buy Voila toys now >>