Wooky Entertainment Toys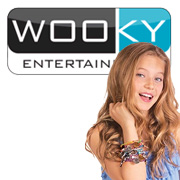 Based in Montreal, Canada, Wooky Entertainment is described as a "brand development and consumer products company." As designers of the girls collectable Style Me Up! Charmazing range of fashion jewellery, the company hit the sweet spot in the market for customisable charm bracelets. The company's Bloco foam construction system is a hit with the boys who can make all sorts of fantastic creatures like dragons, dinosaurs or scorpions.
Block Crayons are another of Wooky's inventions. These brightly coloured crayon blocks are stackable and their large size means that kids can quickly make huge masterpieces to hang on their walls! Mixy snap together jewellery and accessories are another brand for the girls. This time they can easily change their designs or colours thanks to the unique assembly system.
Wooky Entertainment Design Masters Super Charged Sketchbook is one of their best selling items. Each pack contains stencils and stickers to create some of the best looking vehicles around. Choose from Ford GT, Ford F-150 SVT Raptor and many more. Artzooka is a range of activity books that contain hundreds of cling stickers to create robots, faces, puppets or pets.
HERO PRODUCTS

LICENCES HELD BY WOOKY ENTERTAINMENT
RECOMMENDED CATEGORIES

Children's imaginations soar with the finest in creative toys.
Visit the Arts & Crafts category >>

Little girls love to mimic their older relatives with a choice of fashion toys.
Visit the Fashion Design category >>

Every little girl loves some sparkly jewellery they've made themselves.
Visit the Jewellery Kits category >>

Personalisation is catered for with many different toys and gifts.
Visit the Personalised category >>