Children's Jewellery Kits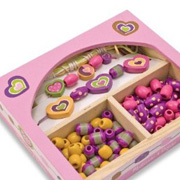 From a very young age, little girls love copying their mummies by wearing some jewellery which often they will have made or decorated themselves. The toy and arts & crafts manufacturers produce some terrific jewellery making sets to help in this process, ranging from simple plastic beads and wristbands right up to professional looking glass and crystal pearl sets on realistic silver chains.
Probably one of the most popular types of jewellery sets has to be friendship bracelets from a supplier such as John Adams. These sets include everything the girls need to make the perfect bracelets including a mixture of charms, beads and yarns. Once you can tie a simple knot, you can make a friendship bracelet to give your favourite friends! Plenty of other makers like Melissa & Doug, Hama, KSG or Galt all have children's jewellery kits to make named bracelets, sparkly earings, necklaces, glittery rings, brooches and so much more.
Fimo even make a series of kits to make jewellery from their famous air-drying clay and include a series of shapes in the set to give the girls some inspiration to start off with. Imagination then takes over and almost any shape of object is possible. Jewellery making often goes on into adult life, and many cottage industries have been set up doing just that. If your little girl wants a new ring, necklace, brooch or bracelet there's sure to be a children's jewellery making set that will be perfect for the job.
FEATURED RETAILERS

The world's most famous online retailer sells an unparalleled selection of toys.
Visit Amazon Now >>

Online retailer of creative, educational, wooden and activity toys.
Visit Crafts 4 Kids Now >>
Other categories in our
Arts & Crafts
section:
Animation Kits
,
Balloon Modelling
,
Candle Making
,
Card Making
,
Easels
,
Face Painting
,
Fashion Design
,
Flower Press
,
Modelling Dough
,
Origami
,
Sequin Art
,
Sewing Kits
.