Children's Face Painting Kits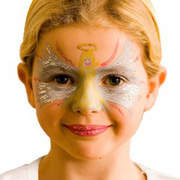 What little boy or girl doesnít love their face being painted? The thought of being decorated to look like a lion, monkey, clown, fairy or any one of thousands of other designs is simply irresistible to kids all over the world. Using standard childrens face painting sets, talented artists can often be seen in the summer months at craft fairs, market stalls, beach huts or anywhere else that kids will congregate, and whether itís a simple design or something really complicated, the results are often astonishingly realistic.
Face painting sets are sold in their millions every year in arts & crafts or toy shops, as well as from many online sellers too. Far better than a simple plastic mask, kids really can look just like Spiderman, Barbie or any other one of their favourite film or TV characters. Safety is paramount of course, and only the safest water based paints and colours are used on childrenís delicate skins. Snazeroo are one of the UKís largest suppliers of face painting sets as well as fake blood, glitter gel and special iridescent powders that can produce awesome effects.
Face painting birthday parties are all the rage with children of 3 to 7 years old, and often there will be a special prize for the best looking one! When combining face painting sets with a dressing up outfit the results are astonishing, so if your little one wants to be a horrifying monster or a princess fairy, the options are virtually unlimited. With animals being some of the favourite face painting subjects, some kids have even been known to be decorated to look just like their pet rabbit, cat or dog!
FEATURED RETAILERS

The world's most famous online retailer sells an unparalleled selection of toys.
Visit Amazon Now >>
Other categories in our
Arts & Crafts
section:
Animation Kits
,
Balloon Modelling
,
Candle Making
,
Card Making
,
Easels
,
Fashion Design
,
Flower Press
,
Jewellery Kits
,
Modelling Dough
,
Origami
,
Sequin Art
,
Sewing Kits
.