Flower Pressing Kits for Kids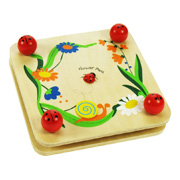 Whilst often being viewed as a girlie thing, flower pressing is an activity that can equally be enjoyed by young boys as well. Plenty of companies make inexpensive flower press kits for kids that usually include comprehensive instructions as well as the pressing paper and card. After a week or so of pressing, the flowers, grasses or leaves can be used in a variety of arts & crafts projects such as candle or gift card making.
Pintoy, Legler, Great Gizmos and John Adams are just a few of the kids flower press makers – many of them are made from highly decorated wooden 'pressing plates', and are light enough to carry straight into a field or meadow where the flowers can be pressed 'on site' whilst they are at their freshest.
Apart from the flower press itself, a series of books and activities have been designed to enhance this hobby which is often carried on throughout adult life. Responsible picking of flowers is always encouraged, especially in conservation areas. Some kids flower press kits include suggestions for a series of projects, and may also include paints, brushes, glues and even blank gift tags or book marks.
FEATURED RETAILERS

The world's most famous online retailer sells an unparalleled selection of toys.
Visit Amazon Now >>
Other categories in our
Arts & Crafts
section:
Animation Kits
,
Balloon Modelling
,
Candle Making
,
Card Making
,
Easels
,
Face Painting
,
Fashion Design
,
Jewellery Kits
,
Modelling Dough
,
Origami
,
Sequin Art
,
Sewing Kits
.