Children's Card Making Kits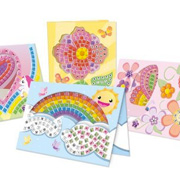 From an early age, kids are encouraged to draw and paint using their imagination, and often these basic skills can then be transferred to creating practical things like wall posters, pictures or greetings card. Little children love to paint and decorate a greetings card to send to friends and relatives for birthdays or some other celebration, and childrenís card making sets are easily available to start them off on this useful and practical skill.
Card making kits will often be endorsed with a kidís favourite pet animal, and some even include pre-made stamps that can be inked and printed onto the greetings card. A huge variety of stickers are also available to decorate these cards, but a childís own interpretation of the world around them is often the most appreciated.
Favourite TV and film characters are popular subjects in card making sets, and kids are encouraged to complete a basic line drawing with their own colours and background scenes. As children get more confident they like to experiment with adding 3D flowers, animals or cars to the front of a card and may even use gel pens or glitter to create something unique.
FEATURED RETAILERS

The world's most famous online retailer sells an unparalleled selection of toys.
Visit Amazon Now >>

Online retailer of creative, educational, wooden and activity toys.
Visit Crafts 4 Kids Now >>
POPULAR SUPPLIERS

Other categories in our
Arts & Crafts
section:
Animation Kits
,
Balloon Modelling
,
Candle Making
,
Easels
,
Face Painting
,
Fashion Design
,
Flower Press
,
Jewellery Kits
,
Modelling Dough
,
Origami
,
Sequin Art
,
Sewing Kits
.