Children's Sewing Kits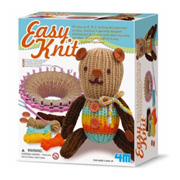 Not necessarily the preserve of little girls, children's sewing kits are a great way to improve manual dexterity as well as hand and eye co-ordination. The clever people at Great Gizmos have created a series of sewing sets to encourage this important skill with subjects like making your own doll or soft toy, and Minicraft have a series of pre-cut soft toy animals that require sewing together and then stuffing with a suitable material.
Children's sewing kits are closely connected with tapestry or knitting sets, with Alex Toys and Galt being amongst some of the main providers. As long as the kit is carefully matched to the correct age range of the child they should have no trouble mastering the required techniques. Even a simple set of cotton reel threading is a great way to start kids off on the basics of learning how string, cotton or cord can be used to connect various materials together.
John Adams are well known for their arts & crafts products, and a series of children's sewing kits that show girls how to sew a purse together from pieces of material, and then sew on various decorations is a great example of this educational series of sets that also includes jewellery making kits for making great personal decorations.
FEATURED RETAILERS

The world's most famous online retailer sells an unparalleled selection of toys.
Visit Amazon Now >>

Online retailer of creative, educational, wooden and activity toys.
Visit Crafts 4 Kids Now >>
Other categories in our
Arts & Crafts
section:
Animation Kits
,
Balloon Modelling
,
Candle Making
,
Card Making
,
Easels
,
Face Painting
,
Fashion Design
,
Flower Press
,
Jewellery Kits
,
Modelling Dough
,
Origami
,
Sequin Art
.