Children's Balloon Modelling Kits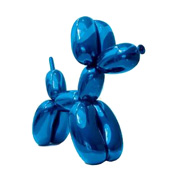 The art of balloon modelling looks easy when a professional entertainer goes to a kidís party and makes all sorts of amazing animals to keep the guests amused. The skill is easy to learn however, and with the right type of modelling balloons and a bit of practice, children will soon be making replicas of their pet dog or cat without any problem at all.
Lots of factors influence the end results, and childrenís balloon modelling kits usually have good instructions about pressure, length and shape of the balloons for the best results - too much air and the balloon will burst, too little and it wonít hold its shape. Some specialist sets contain the parts needed to make a scary spider for example, with spindly balloons for legs and a big red one for the body!
Kids modelling balloon sets can be purchased in many traditional toy shops as well as lots of online retailers. With so many different colours and balloon shapes to choose from, kids can make almost any animal or object that they can imagine, and the better they get the more impressive are the results. For extra advice and suggestions, thereís a number of books available filled with tips and ideas for the perfect balloon modelling fanatic.
FEATURED RETAILERS

The world's most famous online retailer sells an unparalleled selection of toys.
Visit Amazon Now >>
Other categories in our
Arts & Crafts
section:
Animation Kits
,
Candle Making
,
Card Making
,
Easels
,
Face Painting
,
Fashion Design
,
Flower Press
,
Jewellery Kits
,
Modelling Dough
,
Origami
,
Sequin Art
,
Sewing Kits
.