Children's Origami Kits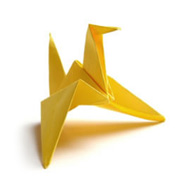 Origami is the ancient Japanese art of paper folding and has been especially popular in European countries since the mid 1900s. Many arts & crafts suppliers produce children's origami sets help them make quite complicated designs using original techniques. The origami paper crane that we've pictured above is a classic image of just what kids can achieve.
Once children have mastered a series of basic paper folding disciplines such as mountain or valley folds, pleats or squash folds, their imagination can take over and they can experiment with their own designs to make their favourite animal, object or person. Help is at hand however with companies like Djeco, Melissa & Doug, Great Gizmos, Alex and Creativity for Kids, all making origami sets with varying degrees of difficulty or detail, as well as a huge variety of subjects.
Different origami paper colour and texture all help to make unique sculptures that children can proudly display in their bedroom or playroom. The choice of children's origami kits range from the very simple to sets that enable them to even make complex geometrical shapes and designs.
FEATURED RETAILERS

The world's most famous online retailer sells an unparalleled selection of toys.
Visit Amazon Now >>
Other categories in our
Arts & Crafts
section:
Animation Kits
,
Balloon Modelling
,
Candle Making
,
Card Making
,
Easels
,
Face Painting
,
Fashion Design
,
Flower Press
,
Jewellery Kits
,
Modelling Dough
,
Sequin Art
,
Sewing Kits
.