Make n Break
No customer reviews yet. Be the first.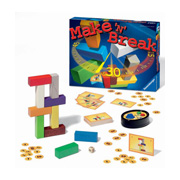 Ravensburger Make n Break Game Review

Ravensburger's Make 'n' Break (alongside the harder version, Make 'n' Break Extreme) is an excellent game that involves racing against time to make and break as many structures as possible, using the 10 differently coloured wooden bricks. You must replicate the pictures on the 80 game cards. Harder structures gain you more points but use up valuable time.
Although recommended for children aged 8 years to adult, younger children have enjoyed playing this game. Make 'n' Break is designed to be played by 2-4 people. However single players have great fun trying to complete as many cards as possible before the timer runs out. It can be addictive!
What skills are being developed when playing the Make 'n' Break game?
• Transferring a 2D image into a 3D structure is part of the Maths National Curriculum at Key Stage 2 (Ma3 Shape, Space and Measure, section 2d)
• Visual processing and visual discrimination skills are developed
• Hand eye coordination is practised
• Spatial awareness is improved
Make 'n' Break appeals to both boys and girls and to a wide variety of ages (incuding adults) making it an great family game. It can be played to specifically help children who have dyslexia, dyspraxia, physical difficulties and those that have issues with competitiveness.
This Make n Break review was written by Lighthouse Toys.
RECOMMENDED RETAILERS

Lighthouse Toys
This traditional toy retailer stocks a good range of special needs toys.
Read more about Lighthouse Toys >>

Amazon
The world's most famous online retailer sells an unparalleled selection of toys.
Buy Make n Break now >>