Barbie Superhero To Princess
No customer reviews yet. Be the first.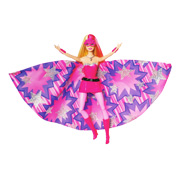 Following a long tradition of Barbie animated movies that launch alongside new dolls and accessories, Barbie in Princess Power is a big departure from the cute and trendy figure that we've come to know and love. This time Barbie takes on supernatural powers in the lead doll named Superhero to Princess.
Wearing her trademark bright pink colours, a stylish mini dress is accompanied by a low slung wide black belt. Her pink boots, bracelets and mask are set off with a dazzling pink and purple patterned cape means this Barbie doll is like no other you've ever seen! Check out the blond hair with woven pink streaks that little girls are sure to want to copy.
RECOMMENDED RETAILERS

Amazon
The world's most famous online retailer sells an unparalleled selection of toys.
Buy the Barbie Superhero To Princess now >>