Reading Toy Shops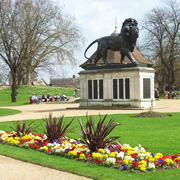 Reading has a lot to shout about where toy shopping is concerned. The recent refurbishment of the popular Broad Street Mall means that the town is now home to two major shopping centres (the second being The Oracle). Broad Street and Friar Street have also developed beyond all recognition in the last few years, and the selection of toy shops in Reading, the capital town of Berkshire, has benefited from this greatly.
Luckily, Reading's population has continued to sustain a number of smaller, independent toy shops, many of which are listed below. These include Hobby Stores, one of the UK's largest radio-controlled model retailers. The Entertainer has a branch in Broad Street that sells a terrific selection of modern and traditional toys including dolls, jigsaws, board games and construction sets from LEGO.
FEATURED RETAILERS

An online retailer selling products from well known UK manufacturers and brands.
Read more about The Little Lavender Tree >>
POPULAR RETAILERS
Upper Ground Level, The Oracle Shopping Centre, Reading, Berkshire, RG1 2AH
0118 957 6817
Unit L11, The Oracle Shopping Centre, Reading, Berkshire, RG1 2AQ
0118 9502363
Unit 18, Oracle Shopping Centre, Reading, Berkshire, RG1 2AQ
Unit C143, Key House, Reading, Berkshire, RG1 8NA
0118 958 6557
Vastern Court, Caversham Road, Reading, Berkshire, RG1 8BA
0118 950 3340
40 Broad Street, Reading, Berkshire, RG1 2AA
0118 958 1811
163-165 Caversham Road, Reading, Berkshire, RG1 8BB‎
0118 957 4040‎
OTHER RETAILERS
Gamestation

6 Queen Victoria Street, Reading, Berkshire, RG1 1TG
0118 958 1107‎
Hobby Stores

387 Oxford Road, Reading, Berkshire, RG30 1HA
0118 958 0030
Life Like Friends

12-13 Harris Arcade, Reading, Berkshire, RG1 1DN
0118 956 8877
Vintage Toys

Harris Arcade, Station Road, Reading, Berkshire, RG1 1DN
0118 958 8666