Edinburgh Toy Shops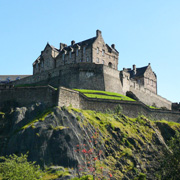 As the capital of Scotland, Edinburgh is particularly famous for its castle, the Hogmanay Street Party and the annual Fringe Festival. As well as the city's history and culture however, Edinburgh is a hugely popular shopping destination with a good selection of pram, baby and toy shops.
Edinburgh's cosmopolitan centre is a joy to wander around - and the generous range of independent toy shops mix well with the usual array of major High Street names. Princes Street and the St James Shopping Centre are the places to find the usual High Street toy shops and designer boutiques, but if you are looking for something a little more unique and quirky, check out Broughton Street, Victoria Street and Causewayside which are home to more trendy shops selling gifts, toys and mementos.
Edinburgh's famous department store, Jenners, is home to a large Hamleys toy shop which occupies the shops basement. The city is also home to the wonderful Museum of Childhood. This free museum is located on the world famous Royal Mile and features five seperate rooms that are stacked full of toys, games and dolls from years gone by.
POPULAR RETAILERS
Unit R43 Ocean Drive, Ocean Terminal, Edinburgh, Edinburgh, EH6 6JJ
0131 554 8377‎
31/32 Gyle Avenue, The Gyle Shopping Centre, Edinburgh, EH12 9JU
013 1339 4944
61 St. James Centre, Edinburgh, Edinburgh, EH1 3SS
0131 558 1330‎
165b Bruntsfield Place, Edinburgh, EH10 4DG
0131 629 9429
48 Princes Street, Edinburgh, EH2 2YJ
0870 607 2841
67 Elm Row, Leith Walk, Edinburgh, EH7 4AQ
0131 556 3233
16 St James Shopping Centre, Edinburgh, EH1 3SR
0844 573 4538
Unit 11c, Edinburgh Fort Retail Park, Edinburgh, EH15 3HH
0131 657 4050
Unit 27B, Fort Kinnaird Retail Park, Edinburgh, EH15 3RD
111 Whitehouse Loan, Edinburgh, EH9 1AT
0131 226 6064
13 Comely Bank Road, Stockbridge, Edinburgh, EH4 1DR
0131 343 1244
193 Morningside Road, Edinburgh, EH10 4QP
0131 447 1006
97-101 Lothian Road, Edinburgh, EH3 9AN
0131 229 6428
OTHER RETAILERS
Almond Valley Toys

Mid Calder, Livingston, Edinburgh, EH53 0HT
01506 880469
Baggins

12 Deanhaugh Street, Edinburgh, EH4 1LY
0131 315 2011
Gamestation

A, 134 Princes Street, Edinburgh, EH2 4AH
0131 225 8619‎
Harburn Hobbies

67 Elm Row, Edinburgh, EH7 4AQ
0131 556 3233‎
Helios Fountain

7 Grassmarket, Edinburgh, EH1 2HY‎
0131 229 7884‎
Leith Pram Centre

147-153 Great Junction Street, Leith, Edinburgh, EH6 5LG‎
0131 554 4666‎
Pinocchio Toys

96 West Bow, Victoria Street, Edinburgh, EH1 2HH
0131 225 6547
Seesaw

109 Broughton Street, Edinburgh, EH1 3RZ‎
0131 556 9672‎
Target Games

Suite 8, 2 Commercial Street, Edinburgh, EH6 6JA
0131 467 8902
The Smart Stork

92 Marchmont Crescent, Edinburgh, EH9 1HD
0131 447 8000
Toys Galore

193 Morningside Road, Edinburgh, Midlothian, EH10 4QP
0131 447 1006‎