Castle Hill Crafts
(1 review)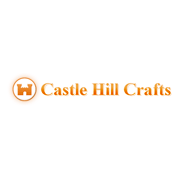 Address
PO Box 259, Stroud, Gloucestershire, GL6 8WY
Telephone
01453 883658
Website
www.castlehillcrafts.co.uk
About
Castle Hill Crafts from Stroud in Gloucestershire is a veritable treasury of arts & crafts resources for schools. They stock everything from bordette to fadeless papers and jewellery making sets to creative paper craft materials. The extensive ranges include pencil toppers, mug painting kits, finger puppets, door hangers, corrugated tissue and construction paper.
Specialist items like kits, display accents, class-packs, mount boards, crepe, scrapbooking, card blanks, painting kits, card-making sketch pads also feature in these comprehensive ranges. They also stock the licensed craft kits for many popular children's TV shows such as Mister Maker, Postman Pat, Mr Men & Little Miss, Art Attack and Numberjack. In addition, they have products from famous character brands such as Pingu, Fireman Sam, Thomas the Tank Engine and Bob the Builder.
Castle Hill Crafts sells a range of Strathmore Fine Art illustration papers and boards that are purchased direct from the USA. Customers who do their own product or portrait photography are encouraged to try their superior seamless photographic backgrounds. Castle Hill Crafts prides themselves on their excellent customer service and first class delivery.
Castle Hill Crafts is a Stroud toy shop that specialises in arts & crafts.