Stroud Toy Shops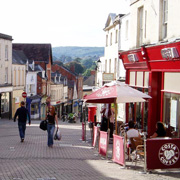 With over 50,000 people living in the civil parish of Stroud, the town centre is a hive of activity for shoppers and office workers alike. Having a strong representation of independent shops of all types in the town means that Stroud toy shops are generally niche and specialist in the ranges they stock.
Rev.W Awdrey who wrote the Thomas the Tank Engine books lived in the area, and it would be hard to find a Stroud toy shop that did not sell some of the famous models. Jigsaws, games and model shops are all well represented along with some of the multiple group shops that all sell a small selection of the popular toys.
FEATURED RETAILERS

A veritable treasury of arts & crafts resources for schools.
Read more about Castle Hill Crafts >>
POPULAR RETAILERS
12 Merrywalks Shopping Centre, Stroud, Gloucestershire, GL5‎
0845 165 7302‎
George Street, Nailsworth, Stroud, Gloucestershire, GL6 0AG
0870 242 7428‎
Rooksmoor Mills, Bath Road, Stroud, GL5 5ND
01453 873853
OTHER RETAILERS
Antics Model Toys

49 High Street, Stroud, GL5 1AN
01453 765920
Linn Jigsaws

Hillside House, Jacob's Knoll, Burleigh, Stroud, Gloucestershire, GL5 2PR
01453 885482