Monmouthshire Toy Shops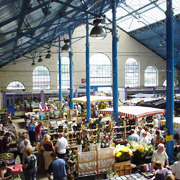 The Welsh county of Monmouthshire (Sir Fynwy in Welsh), has five major towns of Usk, Chepstow, Abergavenny and Caldicot plus Monmouth as the county town. Several Monmouth based toy shops and in some of the other towns serve the area well, and with a wide region to choose from, the residents and visitors to Monmouthshire have a great choice of toy, game, gift and model shops within easy reach.
The multiple retailers are well represented in every town, and a search for Monmouth toy shops will yield some interesting and individual retailers. Creations in Wood in Llanvaches for example, manufacture and sell some fascinating rocking toys including motorbikes and snails! Thingymajigs 4 Kids also in Monmouth have a thriving nursery department as well as a good selection of toys and games for all ages.
POPULAR RETAILERS
2 Lion Works, King Street, Monmouthshire, NP7 5SEE
0845 165 7383‎
Top House, Mynydd Allt Tir Fach, Llanvaches, Monmouthshire, NP26 3AZ
01633 400847
30-32 The Mall, Cwmbran, Monmouthshire, NP44 1PX
0844 693 1465
OTHER RETAILERS
Abergavenny Model Shop

1 Brecon Road, Abergavenny, Monmouthshire, NP7 5UH
01873 770654
Little Specials

39 Monnow Street, Monmouth, Monmouthshire, NP25 3EF
01600 712854
Radio Models

Aberglaslyn, Dan Y Bont, Abergavenny, Monmouthshire, NP7 0DD
01873 830788
Richards Nursery Department

46-50 Frogmore Street, Abergavenny, Monmouthshire, NP7 5AP
01873 854888