York Toy Shops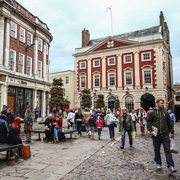 Full of medieval streets and wonderful old buildings, York is the main centre for the area known as North Yorkshire, and best known for having the second largest Gothic Cathedral in Europe. York-based toy shops are varied in size and speciality, and can be found spread around the mazes of old narrow streets. The Monks Cross Shopping Centre has many branches of the multiple chain stores, some of which have large toy departments.
Several chains such as Toys 'R' Us and Game have branches in York, but the smaller independent retailers are some of the most attractive, with names such as Bubbles and Toys and Gadgets Galore. Local shoppers and visitors to York can be sure of finding a great selection of toys in the city. Pregnant 'mums to be' head straight for Paul Stride nursery shop in Monks Cross. They offer a wide choice of prams, pushchairs, furniture and baby clothes from many leading brands.
FEATURED RETAILERS

Huge choice of jigsaws with suppliers including Gibsons and Orchard Toys.
Read more about The Yorkshire Jigsaw Store >>

Family-run online and retail business specialising in high quality, eco-friendly toys and games for children.
Read more about Wunderplay >>
POPULAR RETAILERS
15 Parliament Street, York, North Yorkshire, YO1 2SG
019 0467 2121
Unit 3-5, Spurriergate, York, North Yorkshire, YO1 9QR
York Designer Outlet, St Nicholas Avenue, Fulford, York, YO19 4TA
15 Ousegate, York, North Yorkshire, YO1 8RZ
0844 573 4546
20 Kathryn Avenue, Monks Cross, Huntington, York, North Yorkshire, YO32 9JS
01904 674800
Main Street, Fangfoss, York, North Yorkshire, YO41 5JH
01759 368737
OTHER RETAILERS
Doodlebugz

Marton, Marton Cum Grafton, York, North Yorkshire, YO51 9QE
01347 830100
Gamestation

10-12 Stirling Park, Amy Johnson Way, York, North Yorkshire, YO30 4WU
0845 345 0335
Marston Moor Activity Toys

Tockwith Road, Long Marston, York, North Yorkshire, YO26 7PJ
01904 738379
The Traditional Toy Box

96 Linton Woods Lane, Linton On Ouse, York, North Yorkshire, YO30 2TF
01347 848445
Toys and Gadgets Galore

29 Sirocco Court, York, North Yorkshire, YO31 8FE
07731 331478